It's so exciting for me to host dear friends who've been with me for a very long time. Julia Justiss is a special friend and fellow Harlequin Historical author--and she writes awesome books. If you've never read one, you're missing out. Welcome, Julia!
- - - - - - - - - - - - - - - - - - - - - - - - - - - - - - - - - - - - - - - - - - - - - - - - - - - - -
Congrats to Cheryl on her blogaversary! To maintain an interesting, fun and informative blog over years is tough, and she's done a wonderful job. Thanks, Cheryl, for letting me be part of the anniversary celebration.
Speaking of celebrating, since tomorrow marks our nation's birthday, I thought I'd talk about Fourth of July and my new favorite activity—Pinterest. Many of you may already be pinners, and for a visual person, it's very addictive!
For those who might not have been pulled in yet, Pinterest is a virtual "pin board" on which you can "pin" images. You create a "board" for a particular topic, and if you find an image on the internet (or take a photo of a craft item or recipe) that you want to keep and share, you "pin" the photo to your board. Like Facebook, you can "follow" other pinners who have similar interests, and when you check in to your Pinterest account, the latest hundred-or-so images pinned by people you follow will be displayed. You can "repin" any images that you like to one of your own boards.
I understand that Pinterest began with a group of crafters who wanted to share pictures of projects they'd completed, but it quickly spread to include all manner of graphic material. Recipes, fashion, quotes, craft ideas, gardening, and home decorating are some of the most popular themes for boards.
Writers soon picked up Pinterest as a way to display images of heroes, heroines, and settings for their completed books and works-in-progress. I'd already begun putting together "photo albums" of story settings on my website (see some at www.juliajustiss.com/extra) so it was a natural expansion for me.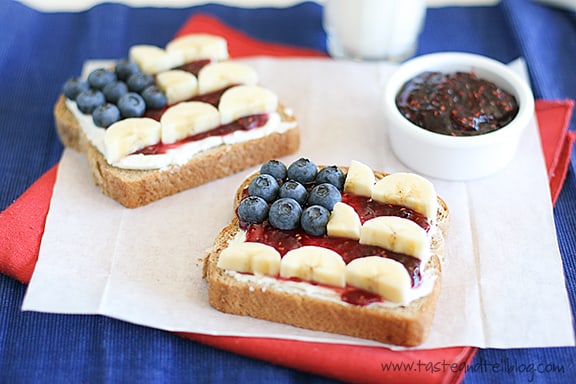 I have boards for my Ransleigh Rogue books that come out next year, a board for Regency clothing, Regency fashion prints, Regency locations, Regency objects. Then there are boards for my non-writing passions: fashion (Fashion before the Regency, 19th Century, 20th Century, Wearable Couture, UNwearable Couture (high-fashion oddities no real person would ever leave the house in!) Dance, Crafts, Garden Delights, Flower Arrangements, Favorite Quotes, and more.
Back to Fourth of July. Since craft, recipe and family pins are so popular, I decided to search for ideas about celebrating our country's birthday. Naturally, with so many planning on picnics and family get-togethers, lots of the pins concerned food.
How about beginning your day with "patriotic toast?"
Hang these tin-can windsocks… to lead the way to your decorated picnic table. If you're from my neck of the woods (Texas) your centerpiece might look like this. While the barbecue grills, sample a cool drink…or delight kids of all ages with these jello firecrackers. To finish off the meal, how about cupcakes…or a fancy layer cake… or these wonderful dessert "shish-kabobs"!
Then, when it's time to sit back and watch the fireworks, here's the perfect garb to keep you warm (apologies to those in the south for whom it will still be too hot after dark for long sleeves.)
Intrigued yet? Maybe I'll see you on the pin boards!
By the way, no birthday celebration is complete without presents, so to one commenter I'll send a copy of my Regency historical, THE UNTAMED HEIRESS. After years of virtual imprisonment by her father, Helena celebrates her liberation by seeking out her mother's best friend in London. The warm welcome she receives from this lady is complicated by her most un-welcome attraction to that lady's step-son, Adam…who is engaged to another girl!
(Please leave your email address so we can contact you if you win.)
Thanks again to Cheryl for inviting me, and Happy Fourth of July!
JULIA JUSTISS is the author of 17 Regency historical romances. Her new series, THE RANSLEIGH ROGUES, will debut in 2013 with Max's story and Will's story.